Update: July 17, 2007
Thanks for visiting this site, but it is no longer being updated. I've moved on over to
http://www.mediapundit.net/
and I invite you to join me over there from now on. Thanks for your understanding.
<!– google_ad_section_end(weight=ignore) –>
The Seven Million Dollar Picture

Thursday, June 08, 2006

-
reddit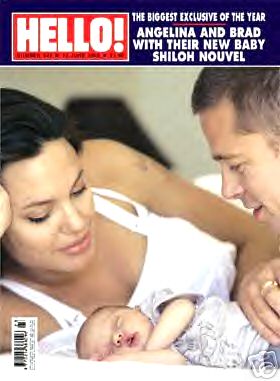 Source: chinadaily.com.cn


Have you ever seen a seven million dollar picture before? If a picture is worth a thousand words, then I guess that makes this picture worth about seven thousand per word. That's pretty steep for a baby photo, and it's not a very good one either. A beautiful painting by a master artist, the founding legal document of the most prosperous nation on Earth, even a rock or crystal from another planet. All these things are worth seven million dollars, but one thing that is not, is a poorly lit and framed picture of two multi-millionaries and their kid, who may very well grow up to be the next Paris Hilton. Please, God, not that...

The price this picture sold for, and that they sold it at all, makes me really question what kind of parents Pitt and Jolie are going to be. It's been well stated that they have no intention of getting married, and if they can't find that kind of devotion to each other, how can they expect the world to believe them when they say "the focus is the kids, and we are obviously extremely committed to the children and as parents together." So committed that they won't get married? I don't know what to think of that. I place no special value in marriage, it's really not that, I just don't believe people that say they are committed as parents when they won't commit to each other at all.

With this picture due to be (re)published on Thursday, I'm going to go ahead and join the entire planet by putting it up right here, as a reminder to people that think pictures are worth money, much less seven million dollars. Pictures are pixels are data on the Internet are worth nothing, so you better get used to it.

Technorati tags: Bitch What?
Like this post? Subscribe to
RSS
, or get daily emails:
Got something to say? . Got a question or a tip? Send it to me. If all else fails, you can return to the home page.